FAQ's
The following are some common questions or concerns - if you have a question you don't see listed here, please don't hesitate to contact us at info@baystatesound.com.
Frequently asked questions
Why should we use individual microphones?
---
We bring as many wireless handheld microphones to the show as is needed so every group member has their own and can be properly heard. There are many advantages to amplifying your group this way; namely, not having to screlt to be heard (cc: basses), creating a more professional experience for your audience, and having the option to record individual tracks for later release as videos or as an album. Not to mention that at virtually every competition, wireless microphones are the norm!
---
What is good microphone technique on a handheld?
---
The godfather of a cappella himself, Mr. Deke Sharon, has a great introductory video on using microphones: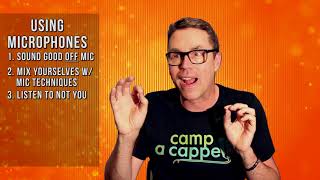 ---
What do you mean by "multitrack recording?"
---
Our mixing boards that we bring out for shows have the ability to capture individual tracks from every microphone, completely untouched. You can either just use these tracks to review your performance, or our engineers can edit and mix the songs of your choice for release digitally or to bump up the production value of your concert video!
---
Do you only do live sound?
---
Nope! While that is our specialty, James has over a decade of recording experience , and would be more than happy to work with you on a recording project, whether it's a single or a full album. He can travel anywhere in the greater New England area to work on your material.
---
What lighting services do you offer?
---
From a few simple stage lights, to more elaborate LEDs to really kick your show off, our lighting specialist Justin (justin@baystate.events) will take care of whatever you need!
---
Can you record our competition set?
---
Absolutely! We know that you've worked months on your set and it would be a waste to have it captured by an iPhone video that your aunt took. We can come to your campus and record it all for much cheaper than it would cost for a live show, with the added benefit of the visual aspect of your choreo still preserved!
---
What are your rates?
---
We draw up rates on a per-project basis, so please let us know your project & budget at info@baystatesound.com and we'll make sure we come up with a quote that works for you!
---
---